Jeffrey Seeman, once a Clifton street kid who worked at Ludlow Garage, will perform there Dec. 19Brush with Duane Allman as a kid changed his lifeBy
: Rick Bird, WCPO Contributor
Posted:
8:00 AM, Dec 13, 2015
Updated:
10:09 AM, Dec 13, 2015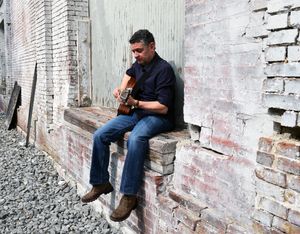 CINCINNATI -- It was the summer of '69: A 14-year-old Clifton street kid found some work doing odd jobs at an old garbage truck storage site/soon-to-be being rock club.
That's how Jeffrey Seeman got his musical awakening.
Seeman worked that summer for Jim Tarbell, who was renovating the grimy garage into Cincinnati's first hippie rock palace. Come fall, when the Ludlow Garage opened, Seeman would hear the greats of the '60's guitar scene including B.B. King, Carlos Santana, Joe Walsh, Frank Zappa, Ry Cooder, Johnny Winter and Taj Mahal.
Forty-six years later, Seeman will come full circle, finally performing in that space for a concert Dec. 19 at
Live at the Ludlow Garage
, the recently remodeled listening room in the basement of the building that housed the original counter-culture rock club.
Seeman, a Nashville resident for 20 years, is touring in support of his just released "Everything in Between," an elegant, nine-cut album of acoustic, instrumental songs produced by Grammy-winner Will Ackerman, founder of
Windham Hill Records
.
On the project, Seeman shows off his newfound love for the 12-string guitar as well as his trademark slide guitar work that he became known for while in the Cincinnati band Wheels.
In fact, it was at the Ludlow Garage that Seeman first heard the patron saint of slide guitar: Duane Allman of the Allman Brothers.
"What really changed my life was one afternoon when I came in to work and there was this Allman-somethings from Georgia doing a sound check," Seeman remembered. "The place was empty and they started playing 'Trouble No More.' It rocked my world to hear Duane Allman play slide."
Seeman said it wasn't long after that he went into his parent's medicine cabinet and emptied a Coricidin bottle in search of a bottle-neck slide.
The teenage Seeman would hear the Allman Brothers three or four times at the Garage, able to get in because of Tarbell's arrangement with some of the Clifton kids.  
"There was no liquor license. So the deal was if we helped clean the place and maintain it, we could come in for shows. In '69 that could happen -- good luck with that today," he said. "We were beyond thrilled with that deal. To me it was the dream of a lifetime to be at a place like that and hear that kind of music."
Seeman said he once was able to meet and talk with Allman. He looks back on the encounter as that of an awkward teen trying to talk music with a guitar god.
"He probably figured I was an idiot. I was pretty tongue-tied trying to talk to him," he said.
But the connection had been made that would drive the young musician's own music career.
"I had played guitar since I was 8," he said. "But I never understood how to make use of what I was learning until I saw Duane and those other players."
Seeman's guitar work would shine in Cincinnati band Wheels, a huge regional success from 1977-84. The group also featured guitarist Mike Wheeler and drummer Mickey Foellger, who later became a Northern Kentucky judge, now retired. On bass was Michael Bany, murdered in 1995 during a robbery following a gig with the Goshorn Brothers in Over-the-Rhine.     
Wheels rode the Eagles/Jackson Browne/Linda Ronstadt country-rock wave, but managed to put their own heartland stamp on it with a grittier, roadhouse feel anchored by Seeman's terrific slide work, which some critics did compare to Duane Allman.
Wheels would also make friends with Little Feat member Paul Barrere, who would produce a Wheels' album and land the band an opening slot on a Little Feat tour.
As often happens in the rock life, personal issues caused Seeman to leave the group and he became involved with
Group Effort Sound Studios
in Fort Mitchell, Kentucky. He pursued his other passions for computer programming and audio product development, writing a recording studio management software package and marketing a headphone monitor system.
Eventually, he went on to write other software packages for the accounting and automotive industries. In recent years he has done IT work, including helping his physician wife, Cindy, set up a practice in Nashville.
Seeman, who has continued to write music, occasionally perform and do studio work around Nashville, said he was recently inspired to return to the recording studio.
"What got me into this was buying a Taylor 12-string. I always wanted one," he said. "It's just a magical instrument. Once I started playing it, it influenced my writing."
Seeman realized his acoustic work was in the Windham Hill vein so he sent some demos to Ackerman, who suggested they make a record. He laid down the basic tracks in a couple sessions at Ackerman's studio in Brattleboro, Vermont, where he has set up shop since selling his stake in Windham Hill 20 years ago.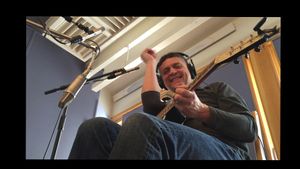 Seeman's compositions are well served by Ackerman's touch. It is intricate music, layered with guitars, horns, organ, saxophone, violin and cello. While the sound is a departure from Seeman's Americana/countrified roots, it retains an attention to melody not always found in instrumental projects.
And it has that crisp, bigger-than-life sound that Ackerman is known for getting out of simple acoustic instruments.
Seeman often makes the 12-string sing with his slide work, yet his guitar stylings are subtle, meshing with other instruments. For a slide wizard, Seeman laughs that the album only has one short guitar solo.
"This was not about soloing. It was being surrounded with other musicians," he said. "I never worked so hard on melody and song structure."
Also performing on the project is another one of those Clifton kids, Paul Patterson, a childhood friend of Seeman. The two were in a high school band together. Patterson is now a violinist with the
Cincinnati Symphony Orchestra
and performs with the Faux Frenchman.
But the Ludlow Garage show won't be a Wheels get-together, Seeman said. Although he and Foellger are willing, Wheeler has remained reluctant.
"I have to respect where Wheeler's coming from," Seeman said. "He figures, 'If I can't get out on the football field and throw a bomb, I'm OK just watching the game on TV."
Seeman's album also includes a tune called "Michael's Journey," a tribute to his murdered bandmate. It is a buoyant, toe-tapping song, punctuated with a melancholy violin. He first performed it at Bany's funeral 20 years ago.
And there will be another reunion playing out in Seeman's mind when he performs at the Ludlow Garage: He'll be remembering when a 14-year-old kid met Duane Allman.
"I will probably comment on the fact their remodeled stage is right where the dressing room was," Seeman said. "We will be literally 10 feet from where I met Duane and tried to talked to him." 
If You Go...WHAT:
Jeffrey Seeman
with cellist Michael G. Ronstadt as the opening act
WHEN:
8:15 p.m. Dec. 19
WHERE:
Live at the Ludlow Garage
, 342 Ludlow Ave., Clifton
TICKETS:
$40 (front row), $20