Press Page - Everything In Between
email press@jeffreyseeman.com for permission to use photos or audio content
this [hidden] page is provided for music reviews, interviews and articles and is not for general release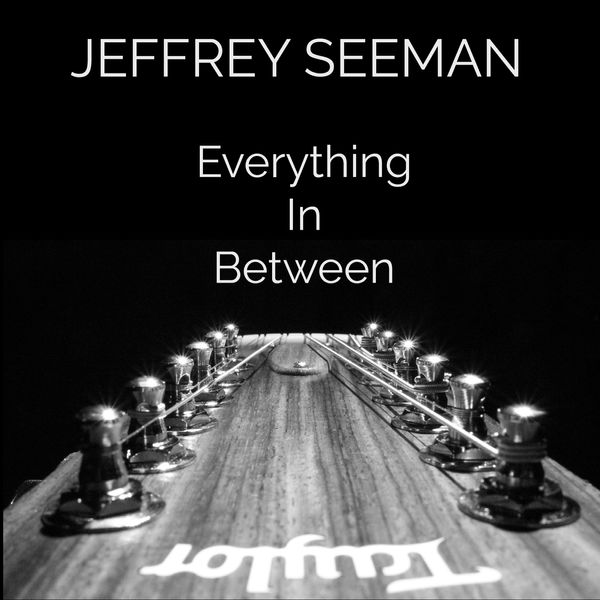 In September, 2014 Jeffrey shared several YouTube videos with Grammy-winning producer Will Ackerman, founder of Windham Hill Records, which prompted Will to suggest they should make a record together - and the project was born. Jeffrey flew up to Brattleboro, VT the last week in January, 2015 and laid down the basic guitar tracks to 8 of the 9 cuts in Ackerman's Imaginary Road Studios (IRS) with Will and chief engineer/co-producer Tom Eaton for what would become the album Everything In Between. The final day of the week cellist Eugene Friesen (Paul Winter Consort) joined them and played his overdub tracks for the album and Noah Wilding performed her vocals.

Jeffrey returned to IRS in April, 2015 and recorded Acadia Walk, laid down the melody slide parts for Jackie's Grace, provided additional guitar overdubs for Southern Night In The Woods, and then two days were spent with Tony Levin recording his bass parts and Jeff Haynes laying down all his percussion. Will then arranged sessions with Michael Manring (bass), Charlie Bisharat (violin) and Premik Russell Tubbs (saxophone) to round out the guest appearances on the album.

Jeffrey meanwhile recorded additional guitars for My Grand Gift and Michael's Journey in his Nashville JSS Studios as well as providing all the original tracks for Southern Night In The Woods, recorded July, 2013 with Paul Patterson (violin, viola & cello; Cincinnati Symphony Orchestra, Faux Frenchmen) during Paul's Nashville visit to tape the video 2000 Years Ago.

Tom Eaton then integrated all the guitar overdubs, added keyboard, Hammond organ and bass tracks, and contributed Steve Bankuti's drum track to Acadia Walk. Finally the album was mixed and mastered by Tom Eaton at IRS.

Remarks Jeffrey: "I was attracted to Will Ackerman in the first place because Windham Hill earned a second-to-none reputation for stellar, bigger-than-life recordings of acoustic instruments and ensembles. This album has been a refreshing project because of the degree to which we focused on a melodic experience, presenting the songs themselves instead of brandishing technique or just making the music a platform for personal solo accomplishment. I actually only play one solo on the entire record and it's in the middle of My Grand Gift."

Will's parting words as the project completed and he did the sequencing (track order) for the CD were:

"Working on the sequence brought me face to face with the brilliance of this music you brought to Imaginary Road.     This is a remarkable piece of work, Jeffrey, and we're very proud to be a part of it.

All my best,
Will"

Jeffrey is now working on a recording project in Nashville that will mix instrumentals and vocals in more of an Americana genre while he continues to book solo guitar concerts and expand this body of instrumental work since they blend well together. Follow-up projects with Ackerman & Eaton are intended and will probably appear as crowd-funding opportunities in the future.
Play / Download Album Tracks
Click Info on each track to see the list of guest performers
and additional track notes
0:00/5:33

0:00/4:21

0:00/5:39

0:00/4:19

0:00/6:01

0:00/3:49

0:00/4:39

0:00/3:58

0:00/3:59
Project photos (to be used with permission)
Jeffrey Seeman - Hi Res Photo Set